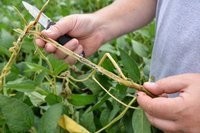 Dr. Damon Smith, UW Extension Plant Pathologist, is a critical partner with Wisconsin Soybean growers battling white mold.
You might be surprised to know what a critical player Wisconsin researchers are in unlocking information that can help soybean growers battle white mold. Just take a moment and visit with Dr. Damon Smith on the UW-Madison campus. Smith quietly goes about his business of looking at years worth of gathered genetic material from previous Extension researchers like Dr. Craig Grau – to continue weaving answers on what it's going to take to overcome the yield robber!

Wisconsin's soybean checkoff dollars are helping to support his research to keep these critical projects moving forward! And this isn't the only important piece of research Smith is engaged in – just give a listen!