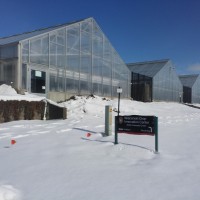 A $10 million commercial biotech plant laboratory in Middleton started in 1982 – but has now become a part of a very bright future for researchers on the UW-Madison College of Agriculture campus.  Tuesday, Monsanto officially donated the 100,000 square foot facility to the college.
Dr. Tom Adams, Vice President of Global Biotechnology for Monsanto, said he hopes the facility allows for more public involvement into crop technologies farmers will be relying on in the future.
The 100,000 square feet encompass 20 greenhouses with 28,000 square feet of space to work in.  15,000 square feet of controlled environments like shade houses and light rooms, as well as 50,000 square feet of high quality laboratory space – all sitting on 4.5 acres in a Middleton business park.
Dean Kate VandenBosch, from the College of Ag and Life Sciences says this donation will help researchers across a variety of disciplines on campus to come together and collaborate on different projects.
VandenBosch says the donation comes at a time when new genome editing technologies are making it easier to alter DNA.  The bottlenecks faced by industry researchers include genetic transformation – building desirable traits into plants – and plant regeneration, both of which will be addressed by this new facility – the Wisconsin Crop Innovation Center.
Shawn Kaeppler, professor of agronomy, has been selected to act as director for the new center.  Research is already underway, with the first project focused on soybean cyst nematodes – funded by the United Soybean Board.