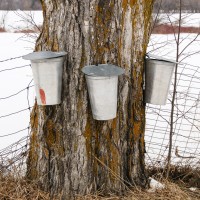 "It's a lot of hard work but it's all worth while" said Jim Ederer of Plain WI when asked about making Maple Syrup.
Jim and his partners own and operate Hill Top Sugar Bush, and produce delicious natural Maple Syrup and then sell it through multiple different grocery stores and other places.
Jim tells us how the operation started as more of a hobby but then came the purchase of additional equipment and today Ederer and the team collect sap from over 1000 taps as some trees can handle more then one tap. Hilltop Sugar Bush uses special equipment that includes a reverse osmosis machine that aids the production process by removing a lot of water from the sap before it goes through another process of cooking the sap and refining it down even further. Ederer says it takes around 40 gallons of sap to make a gallon of pure maple syrup. Which they then bottle and distribute.
Ederer says he gains real enjoyment from being outside and active in the woods, it's almost like hunting he explains. Other people collect sap from there own trees and then bring it to the crew at Hilltop Sugar Bush and they use that sap too, Ederer says that collecting sap is a good part time job for kids after school.
Listen to Bryant and Jim Ederer's conversation by clicking the link below…