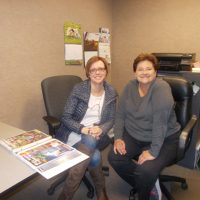 The 38th Annual Midwest Horse Fair is returning to the Alliant Energy Center in Madison from April 21st through the 23rd. Rhonda Reese is the Director of the over 60,000 attended weekend. This is in addition to about 600 horses, 500 exhibitors, and 8 different event areas. The theme this year is Wonder Horse, a head nod to women and superheroes.
Listen to Reese's interview on the Midwest Horse Fair.
Friday night will hold up the tradition of the quickly selling rodeo. Saturday night features The Epic Night of the Horse, which this year also holds the Star Search competition, searching for the next big horse act. There are two divisions and $25,000 in prizes. Competitors nationwide, from whom five open, five youth, and four "wild card" contestants were selected, submitted videos to be chosen for The Epic Night of the Horse. Reese said "wild card" contestants perhaps didn't have the best acts but had very heartfelt stories behind their horses.
Reese reported good numbers for exhibitor numbers from large-scale operations to "mom and pop" owners and businesses. She said there is an undeniable dominance of women in the equine industry which will continue, but what they are trying to do is involve more youth. New this year will be a Youth Rodeo and team challenge obstacle course on Sunday. Clinicians this year include professionals in all disciplines and skills from hunter-jumper to reining to overcoming fear.
The Midwest Horse Fair had a considerable hand in the establishment of new pavilions on the Alliant grounds, which Reese says have been working very well for them. This year, they have been able to add about 60 more stalls. Also brand new is the Grand March at noon Friday and Saturday, exhibiting 30 different breeds as well as a snapshot of what is occurring throughout the grounds.