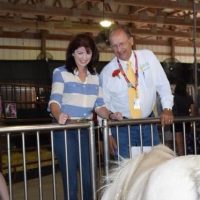 Governor Scott Walker today appointed Jeff Lyon to
lead the Department of Agriculture, Trade and Consumer Protection as interim
secretary effective Monday, August 14, 2017. Mr. Lyon currently serves as the
agency's deputy secretary.

Secretary Ben Brancel's previously announced retirement is effective August 13,
2017.
---
A Farewell At The Fair 
State Fair Lt. Governor Kleefisch with DATCP Secretary Ben Brancel 

Every year its a tradition to hold our August cabinet meeting at the State Fair.
This years meeting was special because we said farewell to Ben Brancel, who has
served as Secretary of Agriculture Trade and Consumer Protection in Wisconsin since
we took office (and previously under Governor Thompson as well). Ben has enjoyed a
long and storied career serving our state as a legislator, Assembly speaker, two
tours as DATCP secretary, and state USDA director. I think the world of Ben  he is
wise, gracious, and analytical. He loves farmers of all types and ages, as befits a
man whose own farm has been in his family for 97 years. That love comes through in a
special way at State Fair, where decades ago Ben was the first kid from his county
to show an animal, and today he walks the barns encouraging the next generation of
4-H kids. Ben, we admire you, we appreciate your service to our state, and we wish
you all the best in your well-earned "retirement" and return to your roots. And to
all our friends at State Fair, keep having fun celebrating Wisconsins farm families
and agricultural excellence our past and our future!