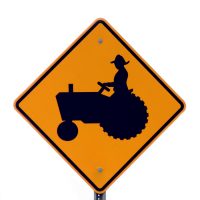 Every day, Wisconsin Farmers, farm workers, and their families work hard to provide products and services that attribute to the state's $88.3 billion agriculture industry. Not only does the Wisconsin agriculture industry provide the food, fuel and fiber to the world but it also sustains jobs for more then 400,000 people.
Those that work in the agriculture industry are constantly risking their health and safety while completing their daily tasks. In fact, more then 25 people each year lose their life due to injuries and incidents on farms and rural roadways. Not to mention there are more then 10,000 agriculture workers and family members injured each year as well.
A great way to help foster health and safety for farmers is to build awareness. A recognition week was created to bring that awareness of safety and health of farms and ranches all through out the nation. Recently, Governor Scott Walker proclaimed the 74th annual Wisconsin Farm Safety & Health Week will be September 17-23, 2017. Through this week Wisconsin agriculturalists health and safety will be at the forefront as it should be all year round.