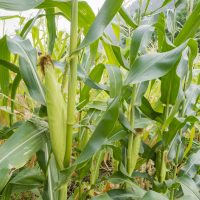 Last week, we saw the month of August come to an end. With the first few days of September we are still seeing cooler temperatures and wetter days following the trends from the month before. This cool weather continues to bring concern to the maturity levels of Wisconsin Corn and Soybean crops.
According to the USDA's National Agricultural Statistics Service, seventy-nine percent of Wisconsin's corn has reached the dough stage or beyond, this is 2 days behind the 5-year average. Thirty-three percent of the corn has reached the dented stage, which is 6 days behind the average.
Even though most corn is behind normal maturity levels there are scattered reports of corn reaching maturity and being harvested for silage. Overall Wisconsin corn condition rated 72 percent good to excellent. This is a 3 percentage points increase from the week before.
When it comes to Wisconsin Soybeans they are following the same trends of corn. Ninety-five percent of the state's soybeans were setting pods, this is 3 days behind the average. That being said leaves have been turning color on 12 percent of the state's soybean acreage. Soybean condition rated 75 percent good to excellent, 2 percentage points above last week.
In other Wisconsin crop news, the harvesting of oats for grain was reported to be 86 percent complete, this is reportedly over one week behind average.
Some crops head of last year's timeline are the Wisconsin potato crop and alfalfa cutting. The potato harvest remains ahead of last year at 35 percent complete. Meanwhile, the third cutting of alfalfa reached 94 percent complete, 6 days ahead of the average. The fourth cutting was reported at 45 percent complete, 3 days ahead of the average.