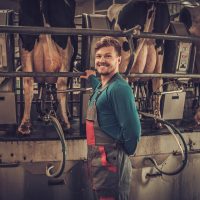 Work- related injuries and fatalities on dairy farms are higher than any other agricultural sector in the United States. In an effort to educate those in the dairy industry to practice good safety habits the third annual Dairy Farm Safety Symposium will be held at during the World Dairy Expo.
The symposium is conducted by the University of Wisconsin-River Falls Center for Dairy Farm Safety. It will contain a series of interactive sessions led by national experts designed to assist dairy farm owners, managers and families in making dairy operations a safe place to work and live.
The main topics to be discussed include an overview of OSHA farm safety policy, tools for developing a customized dairy farm safety plan, safe animal handling, and children and youth worker safety.
John Shutske from the Department of Biological Systems Engineering, College of Agricultural and Life Sciences, UW-Madison and UW-Extension will also present "Investigative Analysis of 2016 Manure Gas Fatality in Portage County, WI" and discuss open space asphyxiation hazards.
The Dairy Farm Safety Symposium is scheduled for October 8, at 8:30 a.m. in the Mendota 4 Ballroom in the Alliant Energy Center Exhibition Hall.
The symposium is free to attend after admission is paid to enter the World Dairy Expo. Seating and boxed lunches will be provided on a first-come, first-served basis.
For more information, contact Carolyn Brady at 715-688-9868 or carolyn.j.brady@uwrf.edu. For more information on the World Dairy Expo, visit https://worlddairyexpo.com/.