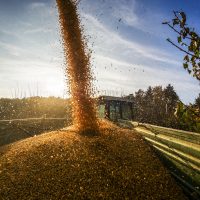 To be eligible, entrants must be a Wisconsin Corn Growers Association member that are in good standing. The contest entry must be from a field of corn 10 or more acres in size of one variety. The contest area may be any shape, but the contest plot must be a total of 1.25 or more harvested acres.
A new addition to this year's completion is that the winners will be selected from six geographical divisions. The divisions include the Northern and Southern divisions plus four county-specific divisions.  The county-specific divisions are based on active county corn grower associations and include: Columbia County, Dodge-Fond Du Lac, Juneau-Adams-Marquette and Rock. In total, there are six eligible divisions.
The winning entry will have the highest corn yield based on bushels per acre. In the event of a tie, both entrants will be recognized as co-winners. Each division will give out cash prizes for the top three finishers. First place will receive $500, second place will get $250, and third place winners will be awarded $100. .