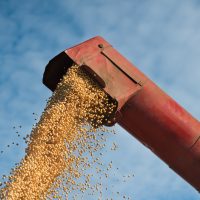 Fall harvest moved forward last week in the badger state despite a quick change in weather.
According to the latest USDA National Agriculture Statistic Service Crop Progress and Condition Report, there were five days suitable for fieldwork for the week ending on November 12, 2017.
Temperatures were below the average last week, with overnight lows falling into the low teens and single digits. There was also light snow fall in the northern parts of the state. This colder weather and local snow cover kept grain moisture high during this time period.
Topsoil moisture for last week's supplies were rated 0 percent very short, 7 percent short, 85 percent adequate and 8 percent surplus. Then subsoil moisture supplies were rated 1 percent very short, 7 percent short, 86 percent adequate and 6 percent surplus.
 Wisconsin corn harvested for grain has reached 56 percent complete; this is 11 days behind the average. The moisture content of corn harvested for grain averaged 21 percent. Corn condition was 71 percent good to excellent which was equal to the previous week.
Soybean harvest is quickly coming to a close as it has reached 92 percent complete, 7 days behind last year, and 5 days behind the average.
Winter wheat emerged was reported at 92 percent complete, 4 days ahead of last year. The winter wheat condition was reported at 85 percent good to excellent, 2 percentage points below last week.
Lastly, the USDA report showed Wisconsin fall tillage at 51 percent complete, 7 days behind the average.