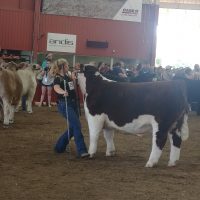 Following last night's Governor's Blue Ribbon Livestock Auction, the Camp of Champions takes place at the Wisconsin State Fair through Sunday. Fair goers can meet agriculture's top youth and see the animals that will be added to the food supply. It's a chance to make the connection between farm to table. Exhibitors whose animals were sold in the auction meet with the public to answer questions and share stories.
"I've always referenced it like the Olympics," said co-chair Jodie May. "You always want to go for the gold. If you make it to the Camp of Champions, then it's kind of like winning the gold."
It's also an opportunity for exhibitors in different animal industries to get to know each other. Jodie said while showers of one animal often known each other, they don't always know people showing different animals. This breaks that barrier. The kids get to know each other and make lasting connections. Bobbi Jo talked with Jodie May and Janie Suddoth at the auction. They are the co-chairs.
Both women have put their kids through the Camp of Champions and seen them grow from the experience. Janie marveled at how a three to four day camp can create lifelong friendships. Their paths to and from the fair may vary, but they have a common passion for agriculture and showing.
"They really become more like family!" Janie said.
About 32 to 35 exhibitors participate in the Camp of Champions. The media session takes place Friday morning before everything gets kick-started. This teaches the kids how to speak to the public and promote their passion. This also gives the consumer the opportunity to see the food chain from start to finish. From the farm it originated on all the way to their dinner plate.