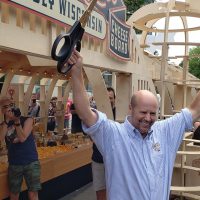 Chad Vincent, President and CEO of Dairy Farmers of Wisconsin, knows all eyes are on him when it comes to using the states dairy farmer check-off dollars wisely.  It's a responsibility he takes very seriously, and is keeping his staff focused on where they can find returns for Wisconsin made dairy products.
In studio with Pam Jahnke and the Wisconsin Farm Report Radio Network, Vincent explained how he works to leverage producer dollars with other programs that are already in existence.  Vincent says he frequently gets questions from dairy farmers about why there's no advertising of Wisconsin dairy products visible, or on the air, in Wisconsin.  He says he tries to remind growers that more than 90% of Wisconsin dairy moves OUT of the state to other markets.  Helping to widen the scope and perspective of what Wisconsin dairy farmers know about where their dollars are being channeled is a major goal for Vincent and his staff in 2019.
Listen in to a few things you might not know about how Dairy Farmers of Wisconsin is working to bring money back to the states dairy farmers bottom line.