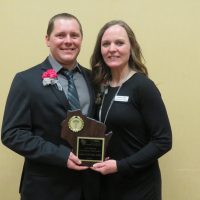 Frigid temperatures didn't dim the enthusiasm in Johnson Creek during the 2019 Wisconsin Outstanding Young Farmer competition. Young agribusiness leaders from across the state shared their experiences and philosophies while being evaluated by judges on who would best represent the state nationally. In the end, technology adopted by an organic dairy in northwest Wisconsin brought them the title.
Winner: Adam & Chrissy Seibel Bloomer, WI. He is in a partnership in Seibel's Organic Dairy which consists of 140 Holstein cows, 160 Holstein heifers and 50 Holstein steers and operates 1200 acres of which 1000 are tillable. In 2011 the Seibel's installed two Delaval robotic milking systems. The Seibel's farm was one of the first organic farms in the country to put in robotic milkers. Adam's goal was to have production levels comparable to a conventional farm. He has achieved that with a daily bulk tank average of 80 pounds, and this past spring, having a 7-day average of 91-pounds per cow. Adam & Chrissy are sponsored by Advanced Dairy LLC, Evergreen Farm Consulting, Inc., Crystal Creek Natural, LLC and Westby Coop. Phone: 715.933.2494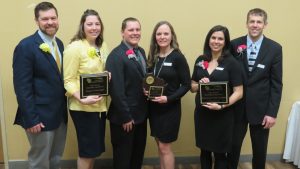 1st Runner Up: Brody & Carolyn Stapel Cedar Grove, WI. Brody is a partner of Double Dutch Dairy LLC. Brody & Carolyn are sponsored by Adell Coop, Dairy Doctors Veterinary Services, S.C., Luxemburg-Casco Jaycees and other local businesses. Phone: 920.946.2410
2nd Runner Up: Scott Laeser/Chelsea Chandler Argyle, WI. Scott and Chelsea are partners in their community-supported agriculture farm called Plowshares and Prairie Farm. Scott and Chelsea were sponsored by WI OYF. Phone: 608.807.6332
"Speak up for Agriculture" award, sponsored by The Country Today: Tony Mellenthin Eau Galle, WI. Family Farms LLC grows corn and soybeans on 6700 acres. He is currently the President of the Wisconsin Soybean Association. Tony was sponsored by Pioneer Seeds, Bauer Seeds & Service LLC, Security Financial Bank and Countryside Cooperative. Phone: 715-299-9199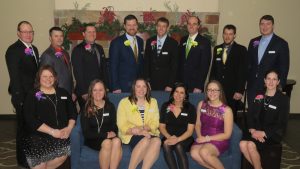 The winners, Adam and Chrissy Seibel, will be nominated to attend the national OYF in Westbrook, CT, Feb. 5-9, 2020.
Other finalists in the state OYF event:
Evan Hillan Ladysmith, WI . Evan was sponsored by Land O Lakes and WI OYF.
Ryan & Tasha Schleis Kewaunee, WI. Ryan & Tasha are sponsored by Luxemburg Jaycees, Tisch Mills Farm Center, Spartan Construction, Gallenberger Dairy Records, Total Dairy Service and CP Feeds.
Mark & Cari Stoltz Muscoda, WI. Mark & Cari are sponsored by Richland County OYF.
Jon & Holly White Edgar, WI. Jon & Holly are sponsored by Marathon County Extension, PPA, Northside Elevator, Marathon County Farm Bureau, Cherokee Garage Inc., Abby Bank, General Farm Supply and ProVision Partners.
Judges for the event include: Dawn Haag, Mount Horeb, WI who serves western Dane and Iowa counties as a Financial Officer for Compeer Financial; Heidi Johnson, Madison, WI is the Crops and Soils Educator for UW-Extension in Dane County; and James Reu, past Wisconsin OYF State Winner, who operates 6200 acres of corn, beans and a little hay in partnership with his son Matt. The Awards Banquet emcees were Sam and Jenn Zimmermann, past State and National OYF Winners, from Ringle, WI.
An Ag Forum training session for the candidates was led Maria Bendixen of Cowculations Consulting LLC. She also presented her agricultural photos from a recent trip to Kenya during our Awards Program. Candidates also toured area businesses including: McFarlandale Dairy and Berres Brothers Roasted Coffee Cafe.
Diamond Sponsors of the OYF event were: BMO Harris Bank, WI AgConnection/USagnet; Professional Dairy Producers of Wisconsin who awarded the finalists a membership and registration to the annual business conference. Platinum sponsors: Kuhn North America, Inc., Peter & Cindy McFarland (McFarlandale Dairy), Ken & Ann Reckelberg, The Country Today and Dairy Business Association-Dairy Forward. Gold Sponsors: Equity Cooperative Livestock Sales Association, William & Clarice Brey (Cycle Farm), Forest Construction; Silver Sponsors: Mid-State Equipment, Farm & Fleet of Baraboo, Brad & Kim Schyvinck (Hillside Haven Farms), Jay & Kristi Richardson (Son-Bow Farms Inc.), Dan & Barb Natzke (Wayside Dairy LLC); Bronze Sponsors: Lakeshore Farm Management, Jerry & Peggy Miesler, James & Karen Battist (Battist Farms Inc.), Berres Brothers Coffee Roasters, Johnson Litho Graphics, Vern & LaVonne Acker and Harold & Cindy Matton.
Next month the national OYF Congress will be held in Moline, IL . Andy Fisher from Reedsville, WI, will be representing Wisconsin as one of the Top 10 Finalists for the National OYF Award. Good Luck to Andy Fisher.