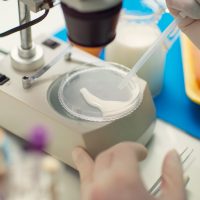 National Mastitis Council (NMC) recognized the best of the best when it comes to quality milk production at its 58th annual meeting in Savannah, Ga. Recognized for outstanding quality milk production through NMC's National Dairy Quality Awards (NDQA) program, the Platinum winners are: Cottonwood Dairy (Jim Winn and Brian and Randy Larson), South Wayne, Wis.; United Dreams Dairy LLC (Tim and Lisa Evert, Rick and Ronda Lehman, Jeff Evert and Michael Nieman), North Freedom, Wis.; and University of Wisconsin Marshfield Agricultural Research Station, Stratford.  Other Platinum operations recognized included Mil-View Jerseys (David and Mark Miller), Millersburg, Ohio; RKB Dairy (Randy and Kathleen Bauer), Faribault, Minn.; Rock Solid Dairy LLC (Zane and Juanita Garber), Shippensburg, Pa.;
In addition to the six Platinum winners, there were 18 Gold and 17 Silver NDQA winners. These farms were selected from 165 applications submitted for the 2018 awards. Farms were nominated by professionals, such as dairy plant field staff, veterinarians, extension specialists and Dairy Herd Improvement supervisors, who serve the dairy industry.
Other honored Wisconsin dairies include:
Gold
Clover View Dairy LLC (Steve & Kim Fischer), Manitowoc, Wis.
DNL Farms LLC (Dave & Lynn Dummer), Elk Mound, Wis.
Dorner Farms (Cory & Maria Dorner), Luxemburg, Wis.
John Rohlfs and Tim Narges Partnership (John Rohlfs & Tim Narges), Eden, Wis.
Kleinhans Dairy Farm (Michael Kleinhans), Kiel, Wis.

Silver
Dinnerbell Farms LLC (Dale, Ann, Adam & Elizabeth Grahl), Eden, Wis.
Theisen Family Farm (Jonathan Theisen), Campbellsport, Wis.
Wolf Farms LLC (Tom & Debbie Wolf), Bonduel, Wis.