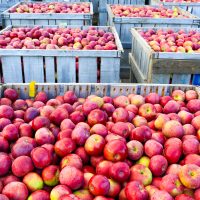 Steve Lewis is the President of Oakwood Fruit Farm in Richland Center. Much like every other farmer in Wisconsin, the weather has wreaked havoc on his crops this year.
On his family's 180 acre orchard they grow "about twenty different varieties," Lewis said. "They'll become ripe around the first of September to the end of September" with a picking season occurring between mid-August to the first week of December. This year, though, that timeline is not as certain. "We're probably about a week to ten days behind," Lewis explained. "We've been late and that condenses things…and typically your season doesn't get longer on the end."
Unfortunately this has been the narrative for most crops in Wisconsin due to severe weather. But, regardless of circumstances farmers have no choice but to make the best of the situation. On top of the weather there has been a lot more pest pressure this year, Lewis stated, making it increasingly difficult to keep the younger trees in good health.
"I don't know if it's possible to put a positive spin on this much rain," Lewis concluded.
To get a full update on what the weather means for apple picking season and cider production this fall, click the play button below: