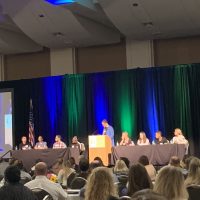 The Dairy Forum Experience is taking place in downtown St. Paul, Minnesota this week. Roughly 400 dairy farmers and industry professionals gathered at the Saint Paul RiverCentre to listen to numerous speakers and consumer panels regarding the dairy industry.
One of the most anticipated sessions of the the event was the Gen Z Consumer Panel, a group of eight consumers ranging in age from 18-21 giving their thoughts on the dairy industry. Moderated by FutureCast President Jeff Fromm, the panel looked to unearth a young person's purchasing decisions, dairy opinions, and how they view dairy farming overall.
The group entered the room in plain clothes and stepped on the stage, into the spotlight as they prepared to make their opinions public on farming. This group made it clear early on that they truly know themselves as a generation. They love social media, have a ton of student loans, and are easily influenced by what they see online.
When it comes to their daily dairy intake, they will be the first to admit that convenience dictates what they eat. "I work about twelve hours a day and only have a fifteen minute break every four hours so I don't have time to sit down and eat a big meal," one panelist said. "Ice cream is the extent of my dairy intake….I don't like dairy too much," another panelist admitted. Another thing that influences this generation's dairy consumption is price. Almost every single one of these young adults currently attends college or recently graduated, meaning that they don't have the most money in the world to spend.
"I would never just drink a glass of milk," one brave panelist said. She elaborated on her statement, saying that she uses milk for cooking but other than that she never consumes milk. Other panelists said that they prefer alternative beverages such as almond milk over regular milk. "I hate whole milk" one panelist chimed in as the group discussed their likes and dislikes. The overall theme of the discussion was that milk, or dairy in general, is far from a pillar of their daily diets. If anything, it is considered an afterthought.
Another interesting discussion was the idea that some items are "real food" and other items are not. When pressed for what is "real food" actually is there wasn't a concrete answer given by the panelists. "Something without a bunch of random chemicals" was the closest anyone got to nailing down what "real food" might be.
It is safe to say that dairy is an afterthought for many in the Gen Z generation. But, as dairy farmer Laura Daniels said, "we just need to learn how to get to these people and show them the facts." It is all about education, tapping into social media, and making constant innovations in the dairy industry when relaying the message to Gen Z.