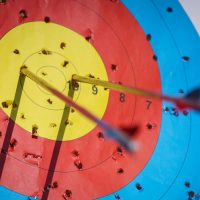 Archery, birding, hunting and fishing are among the fun activities scheduled to be taught by Wisconsin Department of Natural Resources staff and expert volunteers during the free and family-friendly August Horicon Marsh Outdoor Field Day on Aug. 3.
Horicon Wildlife Educator Liz Herzmann says no registration is required for the event, which runs from 9:30 a.m. to 12:30 p.m. People of all ages are invited to participate.
"There will be something for everyone at this hands-on, family-friendly event," Herzmann said. "Even if you have a pretty good idea of which activities appeal to you, it can be a great learning experience for anyone with an interest in the outdoors."
Versatile dog demonstrations
Join expert dog handlers with multiple breeds to see how the dogs are trained for obedience and hunting. Visit the Friends of the Poynette Game Farm Trailer to meet the handlers and dogs after watching them show off their skills!
How's your aim?
The Horicon Bowmen and the DNR are proud to offer archery camp at this year's event. People ages 5 and up can try archery using National Archery in the Schools Program (NASP) equipment. This is the same easy-to-use equipment dozens of schools all across Wisconsin use in their physical education programs.
Campfire conversations
Join the DNR staff members as they chat around the campfire about where your hunting, fishing, trapping dollars go and how they benefit wildlife. Snack on some fresh cooked wild game while you're there!
Recreational Safety
Certified hunter safety instructors will be available with firearm action sets to demonstrate proper firearm use and safety. Participants can practice their aim with laser guns, climb into a harness to learn about tree stand safety and check out UTVs and ATVs as they learn how to ride them safely.
Birds, binoculars and fishing too.
The International Crane Foundation and expert birders will be on hand to show the basics of binocular use and bird identification. Try your hand at tying your own fishing fly as well.
To eat or not to eat?
Do you know your good berries from bad berries? A master naturalist will be on site to quiz you while making a collection basket. SAGE Natural Living will be giving wildcrafting demonstrations how to use marsh plants for everyday uses.
Calling all wildlife
Join wildlife call experts. Can you honk like a goose, quack like a duck or cluck like a hen turkey? Marsh Haven Nature Center will be bringing some of their live animal ambassadors to showcase some of our majestic raptors!
The Horicon Marsh Education and Visitor Center is located between Horicon and Mayville on Highway 28. For a detailed list of all Horicon Marsh Education and Visitor Center special events, please visit the Friends of Horicon Marsh website at www.horiconmarsh.org