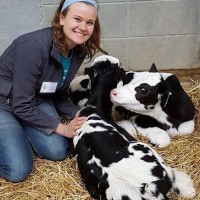 Bobbi Jo Bergum

New to the world of agricultural broadcasting and journalism, I would like to introduce myself. My name is Bobbi Jo Bergum. Born on a 90-head Holstein farm in Monticello, WI, agriculture is in my blood. My earliest memories are painted with images of riding the tractor with my dad, bailing hay, and causing havoc in the milking parlor. Although my family sold the farm to move to Monroe, WI, the industry is still very near and dear to my heart. Close friends and other relatives still keep me connected to the area so that farming never leaves my peripheral.
My family's small acreage in Monroe is home to two horses, an Egyptian Arabian that I show and a Miniature Horse that was a 4-H project when I was little. In FFA, I had Supervised Agricultural Experiences in the areas of Equine Science and Agricultural Communication. My active roles in 4-H and FFA piloted me on my path to pursuing agriculture in college. At the University of Wisconsin–Madison, I am a student of Life Sciences Communication and Animal Sciences, while keeping membership in ag organizations on campus such as the Association of Women in Agriculture, the Wisconsin Equestrian Team, and the Collegiate FFA. Upon graduation, I hope to travel and gain a global perspective in agriculture, either through Peace Corps service if accepted or through another volunteer organization. After this, I will either go on to graduate school or go directly into a career in agricultural communications.
This summer, I have the honor of being under the direction of Farm Director Pam Jahnke with the Wisconsin Farm Report as her intern. With this tremendous opportunity, I am experiencing Wisconsin agriculture in its broadest sense and getting my feet on the ground in media.
I hope to bring to you interesting and informational news in the world of agriculture!